As yet another way to highlight the centenary celebration of YSS , YSDK Coimbatore had this golden opportunity to participate in the prestigious book fair with 256 stalls held at the Codissia Trade Fair Center from 21st to 30th July, 2017.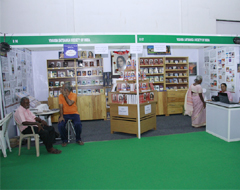 The ample stall space of 200 sq ft provided room for good display of all books as well as CDs, DVDs, posters and pictures.

There was a heart warming response from the crowds , generating a good sale but most exciting was the sale of 346 copies of the The Autobiography of the Yogi ( inclusive of tamil and english) proving this spiritual classic an evergreen favorite for many truth seekers.

This exhibition was not only a platform to make available our Gurudev's books but was instrumental in creating an interest and awareness about Kriya yoga, YSS and also about the Coimbatore retreat center. Introductory literature was handed out and many enthusiastically enrolled as lesson members and continuing to visit the kendra .

The volunteers did a wonderful job of being very resourceful with all required information.