Dream comes true. Thanks to Guruji. The long felt need of YSS devotees of Coimbatore was granted by the grace of Gurudeva. The ardent search for a spacious place to meditate was rewarded when a new property of 0.42 acres with a built up area of 8200 sq ft, situated in Perk's school campus was donated to YOGODA SATSANGA SOCIETY OF INDIA by Mr.Parthiban, a trustee of R.R.Charities, Coimbatore .

This new premises of YSDK is about 4 kms from the city bus stand and located beside a coconut plantation. It has a large open courtyard, meditation hall , library, office and kitchen. In addition there are 20 rooms , bath attached that can be used as a residential facility. Regular group meditations are held in this new premises since July 2013.
Acceptance of New Property by YSS
A formal function was arranged in the new premises of YSDK Coimbatore to mark the acceptance of the new property donated by R & R charities to YSS RANCHI on July 24th 2013. Swami Smaranananda visited the centre and accepted the gift on behalf of YSS.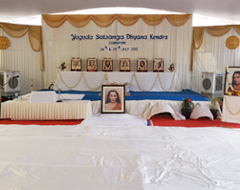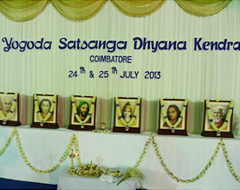 A procession was organized to mark the event in which swamiji and several devotees participated. Devotees carried Gurudeva's picture on a flower bedecked palanquin during Prabhat feri where the air was energized with the love and blessings of God and Gurus.