With great joy, the Coimbatore Kendra is happy to announce the visit of Swami Suddanandaji from 30th December 2017 to 1st January 2018. The three-day program will include daily group meditations, spiritual discourses, review of meditation techniques, and spiritual counselling. What a wonderful way to end the year 2017 and begin the new year! 2018 also marks the 125th birth year of our blessed Gurudeva Sri Sri Paramahansa Yogananda.
We welcome all YSS devotees to attend the program along with like-minded friends and relatives. By participation in these programs, devotees experience great joy and blessings that come from meditating with other sincere seekers, the spiritual fellowship, and mutual exchange of inspiration.
The details of the 3 day Public talk in Tamil on the Bhagavad Gita by Swami Suddanandaji are as follows:
Date & Time: 30th December 2017 to 1st January 2018 from 5:00 PM – 6:30 PM everyday
Venue: SSVM School of Excellence, Perks Arch Road,
Opp: Manchester Perks Apartment, Off Trichy Road,
Coimbatore.
Topics:
The Pandavas and Kauravas within us: who is Righteous? - Saturday, 30th December 2017 5:00 PM to 6:30 PM
Thus, you shall become a Yogi! - Sunday, 31st December 2017 5:00 PM to 6:30 PM
Kriya Yoga & Bhakti: Science to removal of worries - Monday, 1st December 2018 5:00 PM to 6:30 PM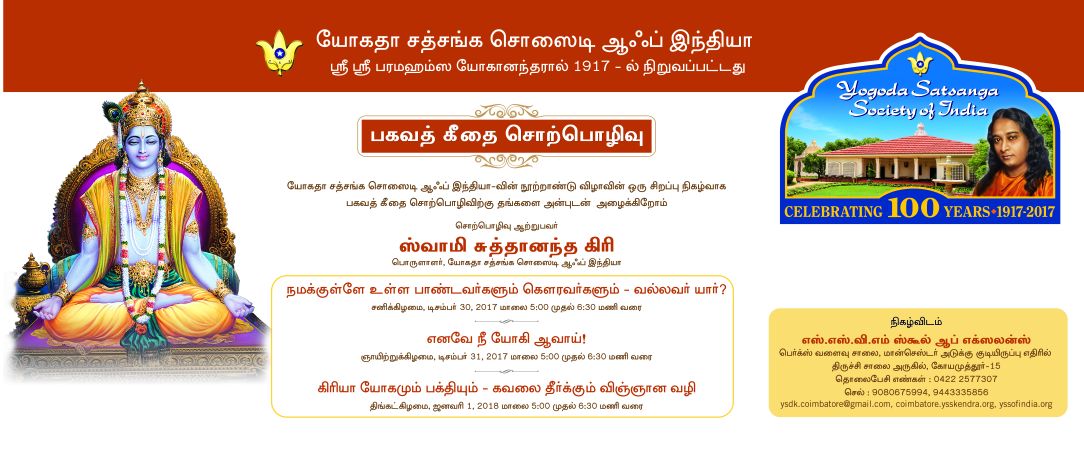 Contact Nos: 9080675994, 9443335856
Website: www.yssofindia.org, www.coimbatore.ysskendra.org
Email: ysdk.coimbatore@gmail.com